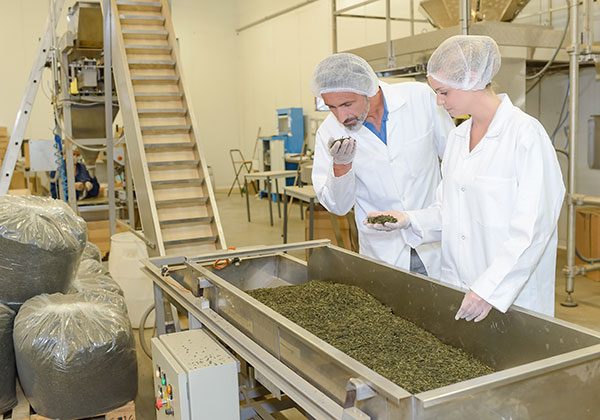 Inspections of all food establishments take place once every 6 months and complaints are addressed with immediate investigations.
The purpose of the inspections is to assure that the food is being handled properly from storage to preparation and serving. Inspectors observe all workers' food handling practices; assure equipment is working properly, take food temperatures, inspect all refrigeration and storage areas, assure water temperatures, and correct level and uses of sanitizers. Any violations that are noted are discussed with the Person in Charge and a plan of action is put into place to correct critical violations immediately and to correct non-critical violations as soon as possible.
Environmental Health is responsible for promoting and protecting the public's health by ensuring that the county's food supply is safe and sanitary. The Sanitarian staff is trained on the 2005 Model Food Code and is well versed on the inspection process as well as educating food facility management and the consumer. The number one goal of the Jackson County Health Department's food safety program is to help protect the public from food borne illness.
All food establishments must obtain and complete the Plan Review Packet and Food Establishment Application prior to being issued a food permit.
Emergency Procedures for Food Establishments
In the event disaster strikes do you know what your organization's emergency procedures are? A food establishment manager (or the Person-in-charge) is responsible for conducting both initial and ongoing assessments to ensure consistent compliance with food safety requirements. The following document is designed to provide guidance in the development of emergency procedures for retail food establishments. Individual establishments can use this resource to develop procedures that meet the needs of their specific organization.
Food Handler Cards are required by the Jackson County Board of Health. Anyone working with food prep, serving, or cooking is required to have a food handler card. Food handler cards are good for one year only. There is a $5.00 fee payable with cash at the time you attend class for a county card.  If you need a statewide card the cost is $15. The Jackson County Health Department accepts cards obtained through online food handler classes from statefoodsafety.com.  No other online website will be honored.
Check 2020 dates for upcoming food handler classes below:
In light of COVID-19 concerns and in order to keep the community safe, we are suspending in person  food handler classes until further notice. PLEASE COMPLETE YOUR FOODHANDLER CARD ONLINE AT www.statefoodsafety.com 
If you have questions, please contact our office directly at (304) 372-2634.  Thank you for your understanding.
If you are in need of managerial classes - please call our office!
Please note if you do not arrive prior to the start of class you will be unable to gain entry and will be asked to return for another date and/or time.
Please check our Facebook page for changes in our schedule due to weather.
You are considered a temporary food vendor if you are set up for less than 14 consecutive days.
Non Profit and For Profit vendors who are planning to operate a temporary food stand in Jackson County must complete a Temporary Food Vendor Application form and submit the form to our office, along with payment if necessary.
Each event should have an Event Coordinator
Sponsors of NON-PROFIT events may not be inspected by the Jackson County Health Department. This allows the organization, such as religious, charitable, educational and non-profit organizations, which are sponsoring the event to be responsible for all aspects of safe food handling of the food to be served to the public. Based on WV CODE 16-6-3 such non-profit entities are exempt of the food regulations during temporary food events.
For Profit vendors must serve food which is prepared on-site, purchased commercially, or prepared in an approved facility. JCHD may inspect the event to ensure compliance with WV64CSR17 which adopted the 2005 FDA Food Code.
Non-profit participants may not be inspected by the Jackson County Health Department and will be responsible for the following: food is to be prepared and handled in hygienic conditions, food at the event is safe, the food is free from contamination, and the food vendors are aware of appropriate food safety practices, other state rules and guidelines relating to labeling, weights and measures, and business licensing.
Jackson County Health Department will provide educational assistance as requested, but may not perform routine inspections of the event or non-profit vendors.
Where there are many businesses and or volunteers participating in the event, the event coordinator must ensure that all use safe food practices.
Anyone working in a food booth must have a current food handler's card
Complete the EVENT CHECKLIST to help you monitor the event from start to finish.
At the end of the event, provide the Jackson County Health Department with the completed EVENT CHECKLIST, retaining a copy for your records.
NOTE: Temporary Vendor Applications should be submitted with your permit fee.  Non-profit charitable, educational or religious vendors will not be charged a permit fee. The Jackson County Health Department must receive the applications at least one week in advance of the event.